A Comprehensive Guide to the Best Motorcycle Apps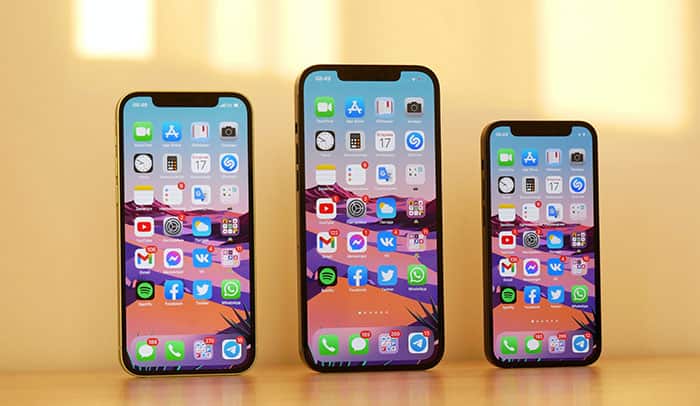 In the past, motorcyclists had to rely on traditional maps for navigation, paper checklists for maintenance, and their own instincts for finding the best routes. Now, with the advent of smartphone technology and the proliferation of apps, all these tasks and more can be managed from the palm of your hand. But with the abundance of motorcycle apps, it can be a challenge to discern which ones are worth your time and storage space. Being a tech-savvy rider, I decided to dive deep into this digital realm, exploring and testing a wide range of apps designed for motorcyclists. This article is the culmination of my research, and it aims to guide you through the best motorcycle apps available today, their features, and how to choose the one that suits your needs perfectly.
Top Features of the Best Motorcycle Apps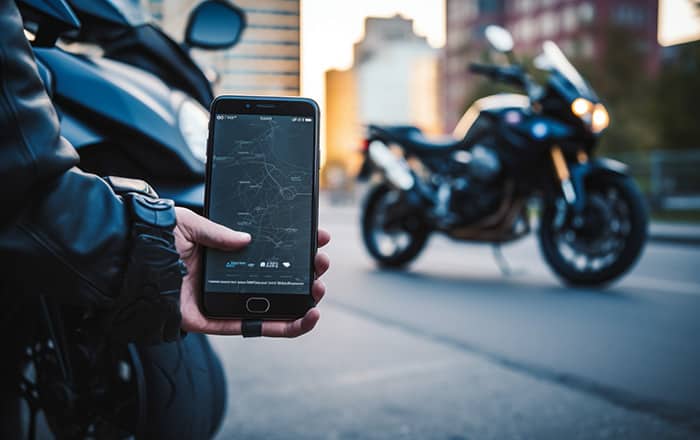 As a motorbike enthusiast, using motorcycle apps has transformed my riding experiences. They offer a host of features that contribute to safer and more enjoyable rides. I have come across several apps, but some of the top-tier ones include Best Biking Roads, Diablo Super Biker, EatSleepRIDE, GreatestRoad, InRoute, MotoEye, REALRIDER, Rever, Round, Scenic, TourStart, and WeRide. These apps, each with their unique offerings, provide a comprehensive suite of tools for ride planning, GPS navigation, and tracking.
One of the most vital features that stands out is the comprehensive route planning and navigation. For instance, Best Biking Roads, one of the pioneers in this area, offers route downloading and helps users locate motorcycle rental points and accommodations. These apps have the ability to turn any ride into a well-prepared journey, ensuring that I am never lost and always have a place to stay.
Another feature I've grown to appreciate is the ride recording and analysis tools. Apps like calimoto not only serve as a GPS system but also help me plan my trips, find new routes, and track my rides. It's incredible to be able to revisit my routes and even share them with others.
Community features are another aspect that enhances my riding experiences. Most of these apps have a community of riders where we can share our experiences, routes, and tips. It's like having a global network of fellow enthusiasts at your fingertips.
Finally, what I appreciate the most is the focus on rider safety. These apps are designed to ensure we ride safely, providing real-time updates on weather, road conditions, and even emergency services when needed. It's like having a guardian angel, always looking out for me while I am out exploring the world on my two wheels.
Top Motorcycle Route Planner Apps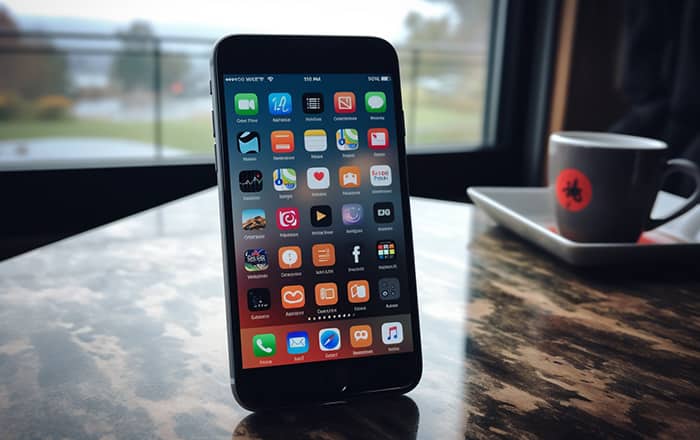 Among the many types of motorcycle apps, route planners hold a special place. They are essentially your digital roadmap, guiding you through your journeys and helping you discover new paths. Here are some of the top motorcycle route planner apps that I recommend.
Rever – is an all-in-one app that offers detailed route planning, tracking, and sharing functionalities. You can plan your routes by choosing from millions of roads and trails worldwide, record your rides, and even share your journey with your friends.
Scenic – is another excellent route planner that stands out for its user-friendly interface and extensive route library. It allows you to plan your routes by simply dropping pins on the map, and it also offers turn-by-turn voice navigation.
InRoute – Route Planner is a versatile app that offers advanced route planning features. You can plan your route based on factors such as weather, elevation, and curviness. The app also provides real-time wind and temperature forecasts, helping you prepare for your ride.
Calimoto – It facilitates the discovery and planning of the best routes, along with navigation and adventure tracking. The app is armed with a unique motorcycle map for trip planning, voice-guided navigation with warnings for danger zones, and a vast number of trip recommendations from a community of users, you can also set the app to prioritize finding a twisty route rather than the most direct route.
Kurviger – this navigation app designed specifically for motorcyclists. The app focuses on creating routes that are scenic and enjoyable, rather than simply the quickest or shortest. It offers features like round trip routing, avoiding highways, and taking routes with curvy roads, which makes it popular among motorbike enthusiasts.
Tonit – Tonit is a full-featured motorcycle community app designed by riders for riders. It offers a platform where motorcyclists can connect, share their riding experiences, and meet other enthusiasts. Its features include ride planning and tracking, route sharing, and creating rider profiles. The app also provides a social networking platform where users can create and join riding groups, post status updates, share photos, and discuss their rides.
Osmand – This app is a highly versatile navigation app that can be used by motorcyclists. Its features include voice-guided navigation, automatic re-routing if you deviate from your planned path, detailed maps for offline use, and the ability to track your trip. It also provides information about points of interest along your route. While it does not have the motorcycle-specific features of apps like Calimoto, such as curvy route planning, or the social networking aspect of Tonit, it is a reliable tool for navigation and trip planning.
Essential Apps for Motorcycle Riders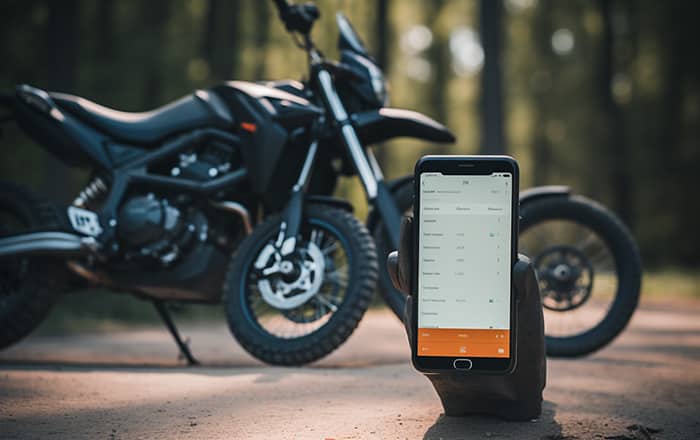 For motorcycle enthusiasts, the modern era offers a wealth of digital tools and applications that can significantly enhance every aspect of your riding experience. These apps span across various categories, catering to your needs and desires, from managing your motorcycle's maintenance to ensuring your safety on the road and even providing entertainment during your downtime.
Fuel and Expense Tracking Apps: Apps like AUTOsist, Fuelio, and Relive empower you to effortlessly track your motorcycle's fuel consumption, mileage, and expenses. They help you maintain a comprehensive log of your motorcycle-related costs, making budgeting and financial management a breeze. Additionally, they provide valuable insights into your motorcycle's performance over time, aiding in better decision-making regarding maintenance and upgrades.
Motorcycle Maintenance Reminders: Stay on top of your motorcycle's health with apps like Motolog. These handy tools not only remind you of essential service schedules but also enable you to maintain a detailed maintenance history. By keeping track of maintenance tasks and their completion, you ensure your motorcycle stays in peak condition, enhancing its longevity and reliability.
Real-Time GPS Tracking for Safety: Prioritize safety on your rides by utilizing apps like the Real-Time GPS Tracker. These apps allow your friends and family to monitor your location in real-time, providing peace of mind for both you and your loved ones. In the unfortunate event of an accident or emergency, the EatSleepRIDE Motorcycle GPS app's unique CrashLight feature springs into action. It detects a crash and automatically sends an emergency alert to your designated contacts, potentially saving valuable time in getting you the help you need.
Connecting with the Riding Community: Riding a motorcycle is not just about the journey; it's about the shared experiences and camaraderie with fellow riders. Community-oriented apps like Riser facilitate this connection by linking you with a global network of riders who share your passion. Share your rides, exchange experiences, and discover new routes and destinations with like-minded individuals. Whether you're a seasoned rider or just starting, these apps foster a sense of belonging and open up new opportunities for unforgettable adventures.
Supplementary Motorcycle Apps
Weather Apps for Precision Riding: Apps like DarkSky and RadarScope provide hyperlocal weather forecasts and real-time radar data, allowing you to plan your rides with precision and stay ahead of changing weather conditions.
Motorcycle Theory Test Apps for Novice Riders: Novice riders can benefit from motorcycle theory test apps, which offer study materials, practice questions, and mock exams to help you pass your license test with confidence.
Motorcycle Racing Game Apps for Leisure: When you're not on the road, motorcycle racing game apps offer an exhilarating virtual experience, letting you race on challenging tracks and customize your dream bike.
Stay Informed with Motorcycle News Apps: Motorcycle news apps curate the latest industry news, motorcycle reviews, and gear recommendations, keeping you connected with the ever-evolving motorcycle community.
These diverse apps cater to your every need as a motorcycle enthusiast, whether you're focused on maintenance, safety, entertainment, or staying informed. Embrace the power of technology to elevate your passion for motorcycles to new heights and make the most of every ride.
The Future of Motorcycle Apps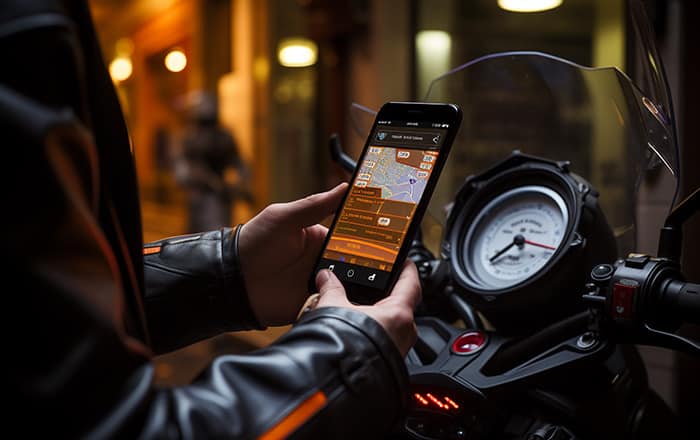 In the foreseeable future, motorcycle apps are poised to undergo a significant transformation that will redefine our riding experience. We are on the brink of an era where these apps will act as a comprehensive platform for bikers, offering a myriad of advanced features. For instance, they will provide real-time mapping of routes, enabling bikers to navigate unfamiliar terrains effortlessly. This is not all; they will also be equipped with predictive analytics to forecast road conditions, helping riders to plan their journey more effectively and avoid any potential hazards.
Moreover, these apps will serve as a health monitor for motorcycles, keeping track of the vehicle's condition and alerting the rider about any maintenance needs in advance. They will also record performance metrics like speed, acceleration, and fuel efficiency, helping riders optimize their driving habits and improve their riding skills.
A standout feature of future motorcycle apps will be their ability to offer personalized tips based on the rider's style and habits, thereby enhancing their overall biking experience. For example, an app could suggest optimal shift points or recommend specific maintenance checks based on the rider's riding style and the motorcycle's usage pattern. In an innovative leap, these apps might also incorporate augmented reality (AR) technologies for safer rides. Through AR, riders could receive real-time alerts about obstacles, traffic, or road conditions directly within their field of vision, thereby reducing distractions and improving safety.
In conclusion, motorcycle apps have undoubtedly become an essential tool for every rider. Whether you're planning your next adventure, tracking your ride, or connecting with fellow riders, there's an app to enhance every aspect of your motorcycle experience. So go ahead, explore these apps, and unleash the adventure that awaits you on the open road!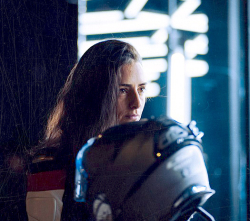 Latest posts by Samanatha Jones
(see all)