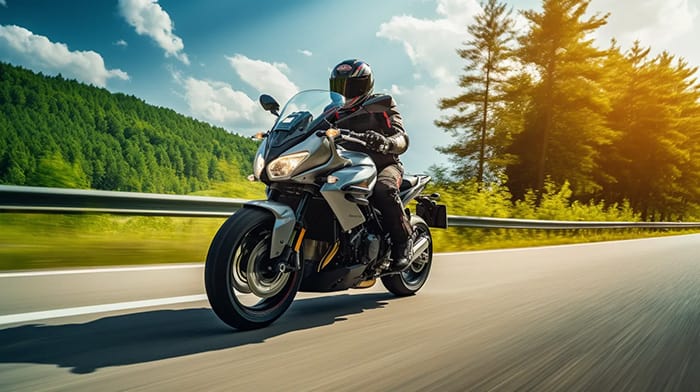 Mastering Motorcycle Safety: Essential Tips for New Riders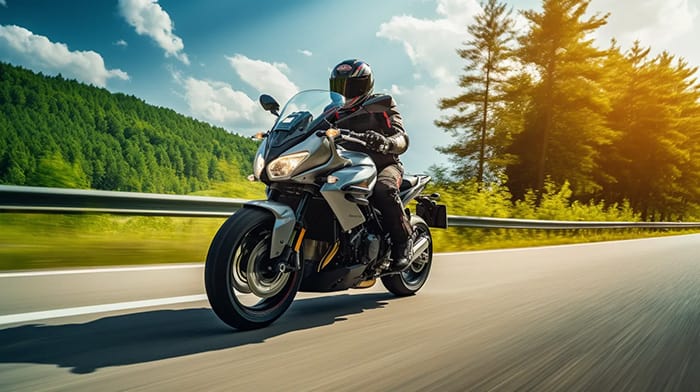 Motorcycles offer less protection than cars, making riders more vulnerable to injuries in the event of an accident. According to statistics, motorcycle accidents are more likely to result in severe injuries or fatalities compared to other types of accidents. This emphasizes the need for new riders to prioritize safety as they embark on their journey. Safety tips for new riders are quite important, also It is important to assess your physical and mental fitness, as well as your level of experience, before getting on a motorcycle. By acknowledging the risks and committing yourself to responsible riding, you can significantly reduce the chances of accidents and injuries.
Common Causes of Motorcycle Accidents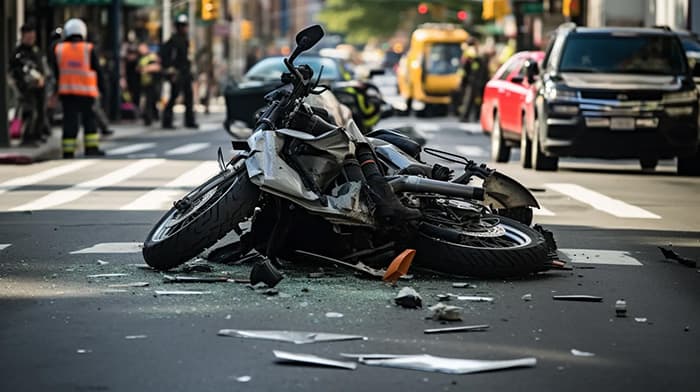 Understanding the common causes of motorcycle accidents is essential for new riders. By being aware of these factors, you can be better prepared and make informed decisions while on the road. The leading causes of motorcycle accidents include:
Distracted Driving: Drivers who are distracted by their phones, passengers, or other activities pose a significant threat to motorcyclists. As a new rider, it is important to be extra vigilant and anticipate the actions of other drivers.
Speeding: Excessive speed reduces the time available to react to unexpected situations, increasing the likelihood of accidents. Observe speed limits and ride at a pace that allows you to have full control over your motorcycle.
Lane Splitting: Lane splitting, the practice of riding between lanes of slow-moving or stopped traffic, is a common cause of accidents. It is important to understand the legality of lane splitting in your area and exercise caution if it is permitted.
Impaired Driving: Alcohol, drugs, and fatigue impair a rider's judgment and reflexes, significantly increasing the risk of accidents. Never ride under the influence and ensure you are well-rested before embarking on a journey.
By familiarizing yourself with these common causes of motorcycle accidents, you can take proactive measures to mitigate the risks and enhance your safety on the road.
Essential Safety Gear for New Riders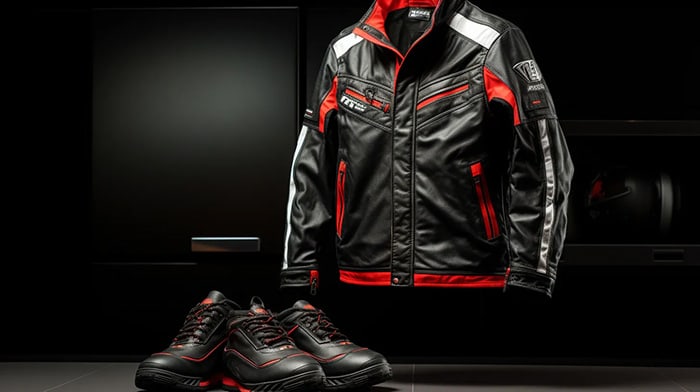 As a new motorcycle rider, investing in proper safety gear is vital to protect yourself in the event of an accident. The following safety gear is essential for new riders:
Helmet: A helmet is the most important piece of safety gear for a motorcyclist. Ensure that your helmet is DOT or Snell certified and fits snugly on your head.
Protective Clothing: Wear abrasion-resistant jackets, pants, and gloves to protect your skin in case of a fall or slide. Look for gear made from materials like leather or reinforced textile.
Boots: Sturdy boots with ankle support will protect your feet and provide stability while riding. Choose boots with oil-resistant soles for better grip on the foot pegs.
Eye Protection: Whether it's a full-face helmet with a built-in visor or separate goggles, eye protection is essential to shield your eyes from debris, wind, and insects.
Investing in high-quality safety gear may seem like an additional expense, but it is a small price to pay for your well-being. Remember, it is always better to be safe than sorry.
Choosing the Right Motorcycle for Beginners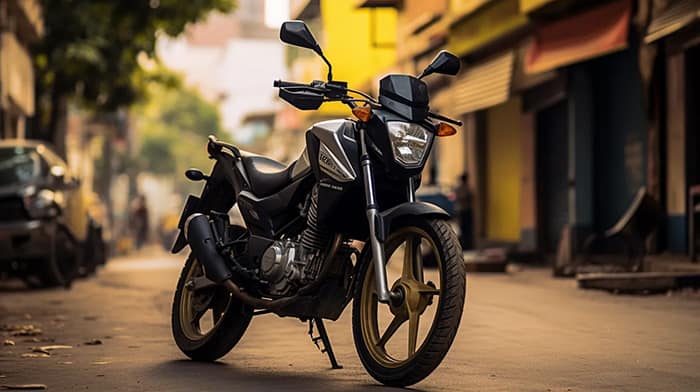 Choosing the right motorcycle is crucial for new riders to ensure a safe and enjoyable riding experience. Consider the following factors when selecting a motorcycle as a beginner:
Engine Size: Opt for a motorcycle with a smaller engine size (250cc to 500cc) to start with. Smaller engines are more forgiving and easier to handle for new riders.
Weight and Height: Choose a motorcycle that you can comfortably maneuver and handle. The weight and height of the bike should match your physical capabilities.
Riding Style: Determine the type of riding you intend to do. Are you more inclined towards cruising, sport, or off-road riding? Select a motorcycle that suits your preferred riding style.
Technology and Safety Features: Look for motorcycles with advanced safety features such as anti-lock braking systems (ABS) and traction control. These features can enhance your safety on the road.
| Criteria | Recommendations |
| --- | --- |
| Engine Size | Opt for a smaller engine (250cc-500cc) for beginners, offering manageable power and control. |
| Weight and Handling | Choose a lightweight motorcycle with a balanced center of gravity for easier maneuverability, especially at lower speeds. |
| Riding Posture | Prioritize a comfortable and upright riding position to reduce strain on the wrists, back, and neck, enhancing overall comfort. |
| Seat Height | Select a bike with a seat height that allows your feet to touch the ground comfortably for stability when stopping. |
| Braking System | Look for motorcycles equipped with an effective and responsive braking system, such as ABS (Anti-lock Braking System) if possible. |
| Technology and Features | Consider bikes with modern features like fuel injection, which provides smoother power delivery, and user-friendly controls. |
| Used vs. New | While used bikes can be more affordable, opt for newer models with updated safety features and reliability for peace of mind. |
It is advisable to test ride different motorcycles before making a final decision. This will give you a feel for the bike and help you determine which one is the best fit for your needs and riding abilities. Here are some of the beginner friendly motorcycles:
| Motorcycle Model | Engine Size | Weight | Riding Style | Seat Height | Notes |
| --- | --- | --- | --- | --- | --- |
| Honda Rebel 300/500 | 286cc / 471cc | 364 lbs / 408 lbs | Cruiser | 27.2 inches | Beginner-friendly cruiser with manageable power and low seat height. |
| Yamaha YZF-R3 | 321cc | 375 lbs | Sport | 30.7 inches | Sporty styling, lightweight, and approachable for riders looking for a sportbike experience. |
| Kawasaki Versys-X 300 | 296cc | 385 lbs | Adventure/Touring | 32.1 inches | Versatile for both city and light off-road riding, with a comfortable upright riding position. |
| KTM 390 Duke | 373cc | 328 lbs | Naked/Streetfighter | 32.7 inches | Aggressive styling, lightweight, and nimble for urban riding. |
| Harley-Davidson Street 500 | 494cc | 540 lbs | Cruiser | 25.7 inches | Harley's entry-level cruiser with a low seat height and classic styling. |
| BMW G 310 R | 313cc | 349 lbs | Standard | 30.9 inches | BMW's entry-level standard bike with a manageable size and user-friendly features. |
| Royal Enfield Meteor 350 | 349cc | 421 lbs | Cruiser | 30.1 inches | Classic cruiser styling with a relaxed riding position, suitable for laid-back cruising. |
Pre-ride Safety Tips Checks
Before embarking on any motorcycle ride, it is crucial to perform pre-ride safety checks to ensure that your bike is in optimal condition. The following checks should be part of your pre-ride routine:
Tires: Check the tire pressure and tread depth. Underinflated or worn-out tires can compromise your motorcycle's handling and stability.
Brakes: Test the front and rear brakes to ensure they are working properly. Look for any signs of brake fluid leaks.
Lights: Check that all the lights on your motorcycle are functioning correctly. This includes the headlight, taillight, turn signals, and brake lights.
Fluid Levels: Inspect the levels of engine oil, coolant, and brake fluid. Top up if necessary.
Controls: Ensure that all the controls, including the throttle, clutch, and brakes, are responsive and functioning smoothly.
Performing these pre-ride safety checks will not only help prevent mechanical failures but also give you peace of mind knowing that your motorcycle is in good working condition.
Riding Techniques for New Riders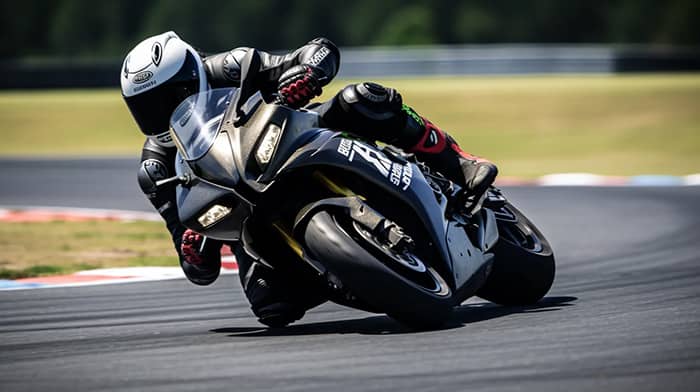 As a new rider, it is important to develop and refine your riding techniques to ensure a safe and enjoyable experience. Here are some essential riding techniques for new motorcycle riders:
Proper Body Position: Maintain a relaxed and upright posture while riding. Keep your knees against the tank and your feet on the foot pegs for stability.
Smooth Throttle Control: Gradually apply and release the throttle to avoid sudden jerks or acceleration. Smooth throttle control enhances stability and control over the motorcycle.
Braking Technique: Use both the front and rear brakes together for optimal braking power. Apply firm, progressive pressure to the brakes to avoid locking the wheels.
Cornering: Approach corners at a safe and controlled speed. Look through the corner, lean the motorcycle by shifting your body weight, and maintain a steady throttle.
Scanning and Awareness: Continuously scan the road ahead and use your mirrors to be aware of your surroundings. Anticipate potential hazards and give yourself enough time to react.
By practicing and honing these riding techniques, you will become a more confident and skilled rider, enhancing your safety on the road.
Adapting your riding style to different weather conditions will not only enhance your safety but also ensure a more comfortable and enjoyable ride.
Defensive Riding Strategies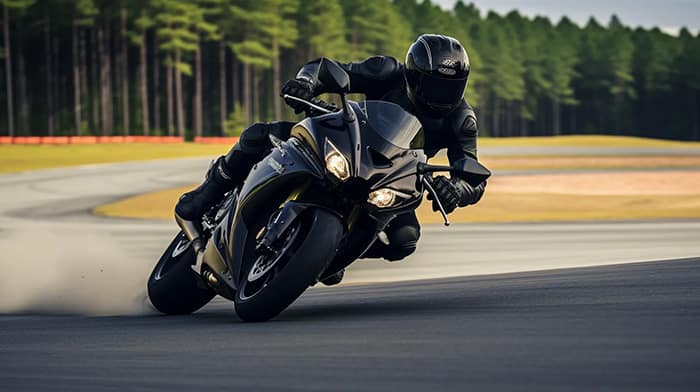 Defensive riding is a proactive approach to motorcycle safety that involves anticipating potential hazards and taking appropriate measures to avoid accidents. Here are some defensive riding strategies for new riders:
Maintain a Safe Following Distance: Keep a safe distance from the vehicle in front of you to allow ample time to react to sudden stops or maneuvers.
Be Visible: Wear high-visibility gear and use your motorcycle's headlights at all times, even during the day. Make eye contact with drivers to ensure they see you.
Be Wary of Blind Spots: Avoid lingering in a vehicle's blind spot. Position yourself to be visible to other drivers and make your intentions clear with appropriate signals.
Signal Intentions Early: Use your turn signals in advance to indicate your intentions. This gives other road users time to react and adjust their driving accordingly.
Scan Intersections: Approach intersections with caution and be prepared for vehicles that may disregard traffic rules or fail to see you.
By adopting defensive riding strategies, you can significantly reduce the risk of accidents and increase your overall safety on the road.
Resources for New Riders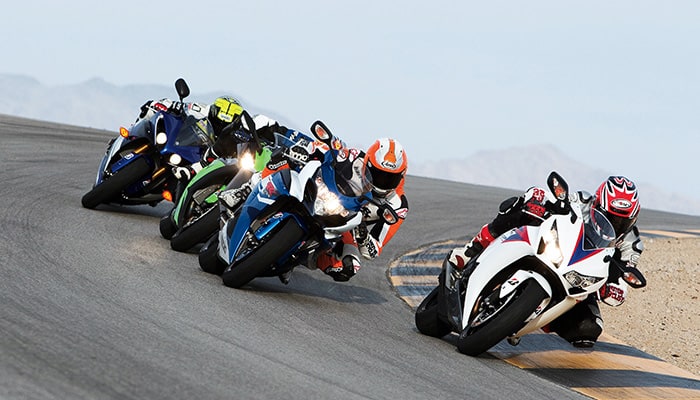 For new riders, there are various resources available to enhance motorcycle safety knowledge and skills. Here are some recommended safety courses and organizations:
Motorcycle Safety Foundation (MSF): The MSF offers comprehensive rider training courses for riders of all levels. Their courses cover basic motorcycle handling, advanced riding techniques, and more.
Rider's Edge: Rider's Edge is a program offered by Harley-Davidson that provides beginner rider courses. These courses focus on building fundamental skills and confidence.
American Motorcyclist Association (AMA): The AMA is a leading organization that offers resources, training, and advocacy for motorcycle riders. They provide safety tips, educational materials, and access to local riding clubs.
Local Riding Schools: Many local riding schools offer beginner rider courses and advanced training programs. These schools often have experienced instructors who can provide personalized guidance.
By taking advantage of these resources, new riders can gain valuable knowledge, skills, and support to enhance their safety on the road.
Conclusion
Mastering motorcycle safety is a continuous process that requires a commitment to responsible riding, ongoing training, and the right safety gear. As a new rider, it is important to understand the risks and take proactive measures to mitigate them. By prioritizing safety, choosing the right gear, developing essential riding techniques, and continuously improving your skills, you can embark on a journey of motorcycle riding that is both thrilling and safe. Remember, safety should always be your top priority.