Best Motorcycle Glasses for Night Riding and Day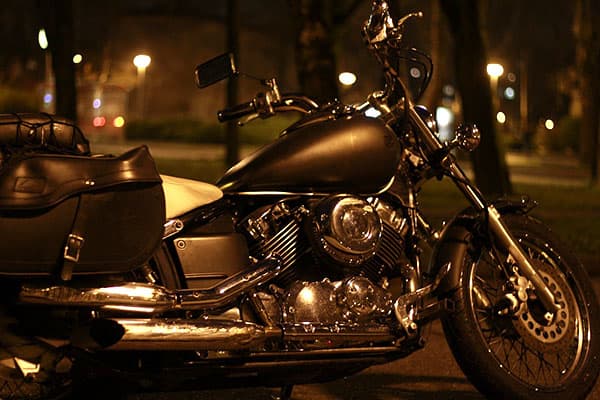 As a seasoned motorcyclist, I cannot stress enough the importance of wearing the right gear while riding. Among the essential items, motorcycle night riding glasses hold a significant place. They provide clear vision and eye-safety allowing you to enjoy the open road in complete comfort. After years of riding and trying different motorcycle glasses, I have gained valuable knowledge and insights that I wish to share with my fellow riders. In this blog article, I will guide you through the critical aspects of motorcycle glasses, including their importance, essential features, and some of the most ideal options available for daytime and nighttime riding.
Why Motorcycle Night Riding Glasses are Important?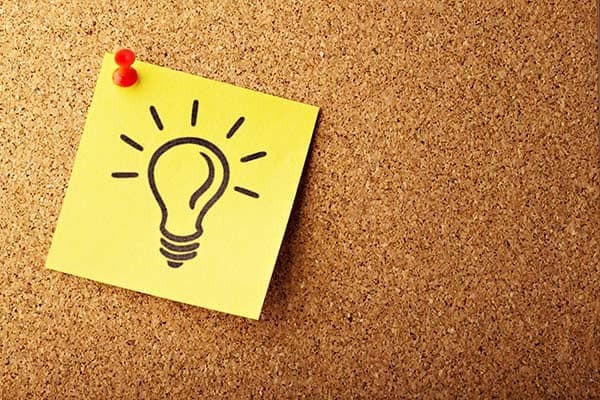 Selecting the best motorcycle riding glasses can be a challenging task, given the plethora of options available in the market. However, by focusing on a few key features, you can make an informed decision and choose a pair that suits your needs and preferences.
Lens materials
The lens material plays a critical role in determining the durability, comfort, and optical performance of motorcycle glasses. Polycarbonate lenses are an excellent choice due to their lightweight, impact-resistant, and shatterproof properties. They also provide built-in UV protection, making them ideal for outdoor riding.
Lens coatings and treatments
Various lens coatings and treatments can enhance the performance of your motorcycle glasses. Anti-reflective coatings help reduce glare and improve visual clarity, while hydrophobic coatings repel water, making it easier to see in rainy conditions. Polarized lenses are also beneficial for reducing glare and improving contrast, particularly when riding in bright sunlight.
Frame materials and design
The frame material influences the durability, comfort, and fit of your motorcycle glasses. Look for materials like TR-90, which offer flexibility, durability, and lightweight comfort. The design should provide a secure fit and wide peripheral vision, ensuring that the glasses stay in place even during high-speed rides. Additionally, look for features like adjustable nose pads and temple tips for a customized fit.
Some of the Key Reasons why you should invest in a good pair of motorcycle glasses include:
| Feature | Description |
| --- | --- |
| Eye Protection | Motorcycle glasses protect your eyes from dust, debris, wind, and harmful UV rays, crucial for riders without helmet windshields. |
| Glare Reduction | Quality motorcycle glasses minimize glare from the sun or headlights, ensuring clear vision of the road and other vehicles. |
| Comfort | Glasses with the right fit and features enhance comfort during long rides, reducing eye strain. |
| Impact Resistance | Choose durable materials like polycarbonate for high-impact resistance, safeguarding your eyes from debris and wind. |
| UV Protection | Pick glasses offering 100% UV protection to prevent long-term damage from harmful sun rays. |
| Anti-Fog Coating | Ensure clear visibility in humid or rainy conditions by selecting glasses with anti-fog coatings. |
| Interchangeable Lenses | Opt for glasses with interchangeable lenses for versatility in adapting to different lighting conditions during day and night rides. |
Key Features to Look for in Motorcycle Glasses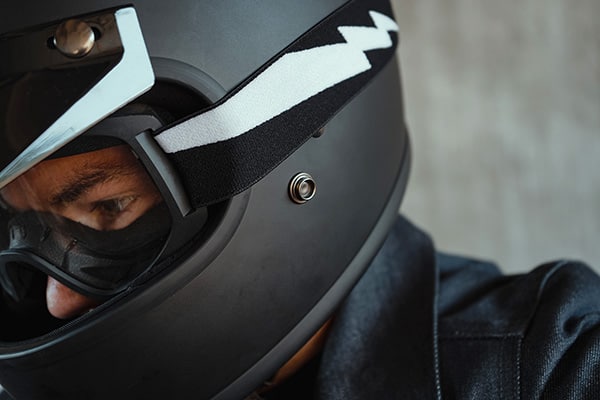 When choosing the best motorcycle glasses for day and night riding, consider the following essential features:
Prescription Compatibility: If you require prescription glasses for driving, ensure that the motorcycle glasses you choose can accommodate prescription lenses.
Polarization: Polarized lenses are crucial for reducing glare and providing a clear view of the road. This feature is especially important for night riding when glare from oncoming headlights can be dangerous.
Foam Padding: Foam padding provides comfort during daily wear and forms a seal between the glasses and your eyes, preventing dust and debris from entering.
Strap Compatibility: For riders who use open-faced helmets, having a strap that can replace the frame is useful. This feature ensures that the glasses stay securely in place, even at high speeds.
Photochromic or Transitions Features: Photochromic lenses automatically adjust to changing light conditions, providing optimal vision during both day and night rides.
Caring and Maintaining Motorcycle Glasses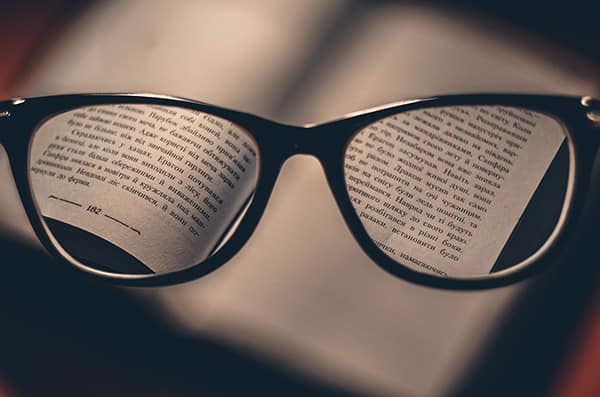 To prolong the life of your motorcycle glasses and ensure optimal performance, it's essential to care for and maintain them properly. Here are some tips:
Cleaning: Regularly clean your lenses with a microfiber cloth and a lens cleaner specifically designed for polycarbonate lenses. Avoid using paper towels or other abrasive materials, as they can scratch the lenses.
Storage: Always store your motorcycle glasses in a protective case when not in use. This will prevent damage from accidental drops, scratches, and exposure to harmful elements.
Inspection: Periodically inspect your motorcycle glasses for signs of wear and tear, such as loose screws, cracked lenses, or damaged frames. If you notice any issues, address them immediately to ensure your safety and comfort on the road.
Top Motorcycle Glasses
Wiley X Valor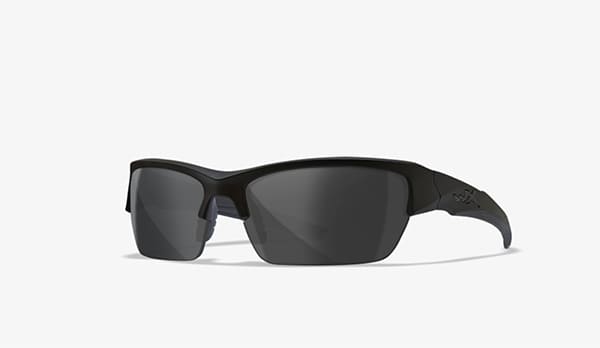 The Wiley X Valor boasts shatterproof polycarbonate lenses with clear or yellow tint, designed for nighttime riding. With anti-fog and scratch-resistant coatings, they ensure optimal vision in low-light conditions. The durable, lightweight frame provides a secure fit, making these glasses ideal for nighttime rides.
You can check out the Prices Here.
Bertoni Motorcycle Glasses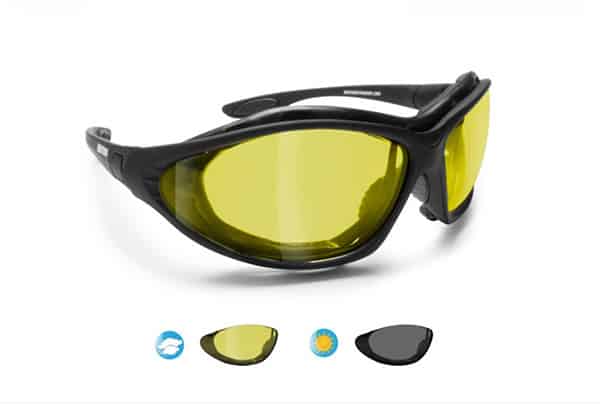 These Motorcycle goggles offer photochromic lenses for optimal day and night vision, a lightweight durable frame, and ANSI Z87.1 certified impact-resistant lenses. With an anti-fog ventilation system, these goggles ensure clear and safe riding.
You can check out the Prices Here.
Choppers Night Riding Padded Motorcycle Glasses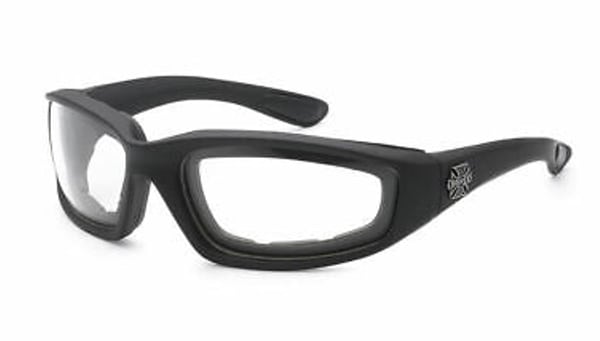 These are excellent padded glasses on the cheaper side, however provides great protection. The glasses are comfortable to wear, with a padded frame, adjustable nose pads, and a secure grip on the arms. They also offer protection from harmful UV rays depending on the lens used.
You can check out the Prices Here.
Bobster Night Hawk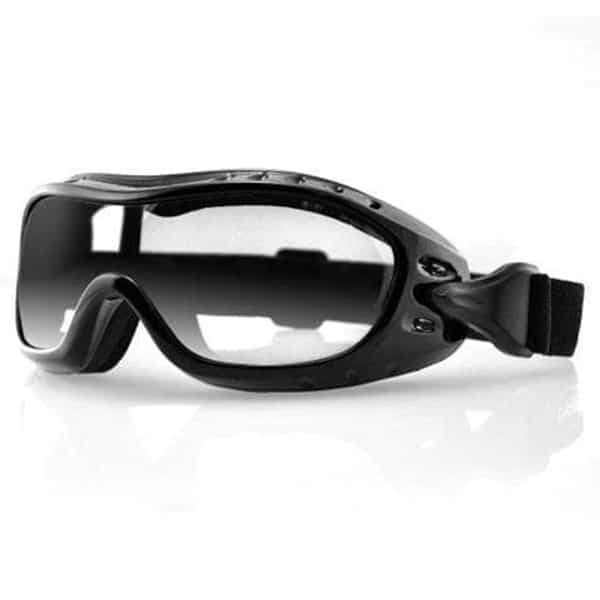 These glasses are designed for riders who wear prescription glasses, these goggles can be worn over the glasses (OTG) and feature clear polycarbonate lenses with anti-fog and scratch-resistant coatings. The adjustable strap and foam padding provide a comfortable fit, while the single-layer foam seal blocks out wind and debris.
You can check out the Prices here.
Wiley X Airrage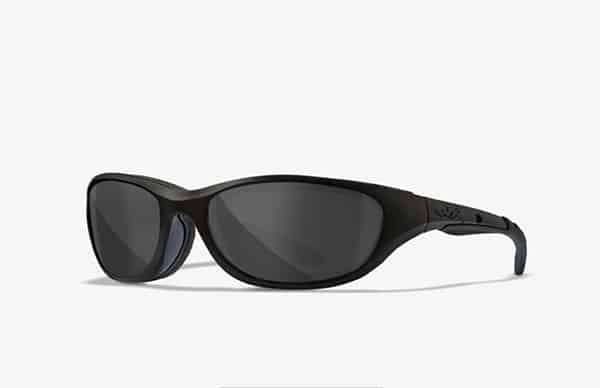 The Wiley X Airrage sunglasses are a sleek, low-profile eyewear designed for smaller face shapes and situations where a smaller frame is needed. They offer a range of features, including polarized color-enhancing lenses, ANSI Z87.1+ high-velocity and high-mass impact protection, peripheral glare control, wind/dust/debris control, superior lens optics, shatterproof Selenite lenses, and super-tough frames. These glasses are also prescription-ready.
You can check out the Prices Here.
WYND Blocker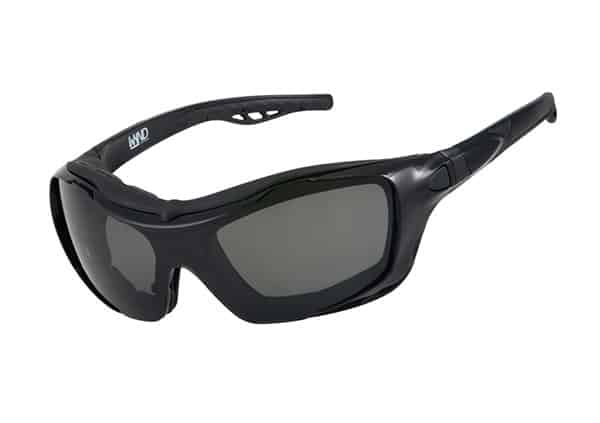 These glasses are impact resistant, anti-scratch, and come with a range of features like a removable wind-resistant eye liner and the option to convert to goggles. Rubberized ear pieces ensure stability and grip, while the lightweight design suits various outdoor activities. The TAC Polarized Lens offers a comprehensive solution for eye protection, featuring a 100% UV400 protection coating that effectively blocks harmful UVA and UVB rays. The lens's polarization not only safeguards the eyes but also restores true colors and eliminates reflected, glaring, and scattered light.
You can check out the Prices Here.
BIKERSHADES Day & Night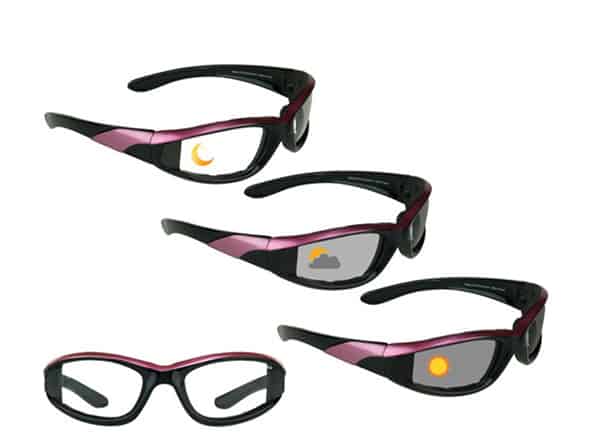 These biker glasses quickly transition from clear to gray when exposed to sunlight. The Eliminator sport glasses have a 180-degree wrap for a secure fit at high speeds, blocking wind, dust, and debris. They use impact-resistant polycarbonate lenses, known for durability and scratch resistance. Polycarbonate, like CDs, is virtually unbreakable. The Eliminator photochromic sunglasses are lightweight, flexible, and comfortable, with rubber ear pieces to prevent slipping.
You can check out the Prices here.
Aully Park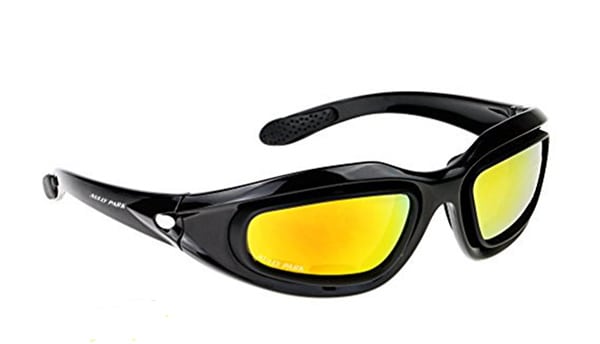 Aully Park glasses feature a polarized lens that reduces glare and enhances night vision. They also have a lightweight and durable frame, adjustable nose pads, and an elastic strap for a secure fit. These glasses offer protection from harmful UV rays and are suitable for both men and women.
You can check out the Prices here.
FAQs
Can I wear regular sunglasses on a motorcycle?
It's not advised to wear regular sunglasses while riding a motorcycle, as they may not offer the same protection as motorcycle-specific glasses designed for high-speed winds and impacts.
Do I need separate glasses for day and night riding?
Separate glasses aren't necessary, but having glasses with interchangeable lenses for different lighting conditions can enhance your riding experience.
Are polarized lenses suitable for motorcycle riding?
Polarized lenses can be beneficial in reducing glare during bright conditions, but they may affect the visibility of certain LCD screens. Test them with your motorcycle setup beforehand.
How do I clean and maintain my motorcycle glasses?
Clean with mild soap or lens cleaner and a microfiber cloth, avoiding harsh chemicals or abrasives. Store in a protective case and inspect regularly for wear and tear.
Can I wear contact lenses with motorcycle glasses?
Yes, contact lenses can offer additional comfort and convenience when using motorcycle glasses, eliminating the need for prescription inserts or wearing glasses underneath.
Are photochromic lenses suitable for day and night riding?
Photochromic lenses can be convenient for day and night riding, as they automatically adjust their tint. However, they may not darken as much as dedicated sunglasses, so consider your riding preferences and lighting conditions.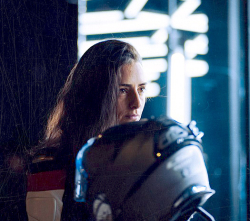 Latest posts by Samanatha Jones
(see all)