The Ultimate Guide: Texas' Premier Motorcycle Trips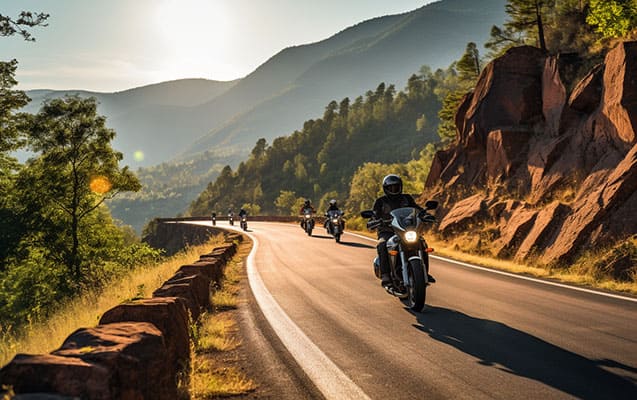 There is a reason why Texas is often referred to as the mecca for motorcycle enthusiasts. Texas is the second-largest state in the U.S., and it offers a wide variety of terrain that caters to every rider's taste. From the flat, straight roads of the Panhandle to the twisting, undulating lanes of the Hill Country, Texas is a playground for motorcycle enthusiasts. This guide is your key to discovering the ultimate motorcycle journeys across Texas.
Texas: A Diverse Landscape for Motorcycle Riders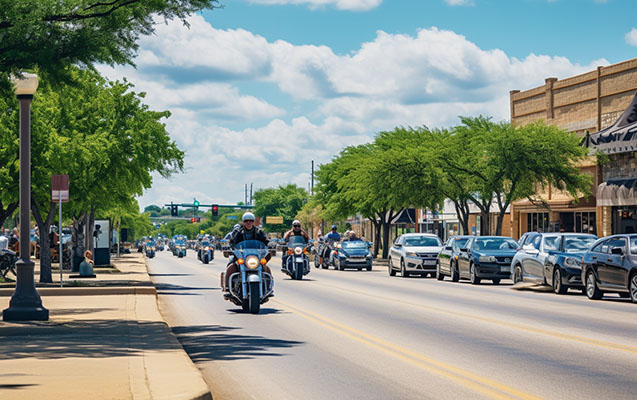 Texas is a land of immense geographical and cultural diversity, making it a mecca for motorcycle riders seeking a wide spectrum of experiences. From the rugged expanses of West Texas to the fertile plains of the Panhandle, the rolling hills of the Hill Country to the tranquil Piney Woods, Texas has something for every type of rider.
A Multifaceted Terrain
The Desert Realms of West Texas: In the west, the vast Chihuahuan Desert offers a surreal backdrop for riders. The iconic Big Bend National Park beckons with its steep canyons, dramatic cliffs, and star-studded skies. With open roads that seem to stretch forever, you'll embrace isolation and find solace in the arid landscapes.
Hill Country's Serene Beauty: In the heart of Texas, the Hill Country boasts a landscape of rolling hills, meandering rivers, and an abundance of wildflowers in spring. This region is home to routes like the Three Sisters Scenic Byway, where you'll encounter challenging curves and small-town charm.
Coastal Splendor along the Gulf: Texas's Gulf Coast is a haven for coastal enthusiasts, offering miles of sun-kissed beaches and tranquil bayous. The Gulf Coast Highway allows riders to revel in the refreshing sea breeze and relish the flavors of seafood joints along the way.
Borderland Beauty in South Texas: Venture to the Rio Grande Valley, and you'll ride along the international border. The blend of Mexican and Texan cultures provides a unique experience, and the region is rich in history and tradition.
Eastern Enchantment in Piney Woods: The Piney Woods of East Texas present riders with a lush and verdant landscape, characterized by dense forests, pristine lakes, and winding backroads. Here, you can escape the urban bustle and embrace the serenity of nature.
Weather Considerations for Texas Motorcycle Trips
Riding through Texas is a year-round adventure, but the weather can be as diverse as the landscapes. Here's what to consider:
Summer Heat: Texas summers can be scorching, especially in the western deserts. Be prepared for high temperatures and stay hydrated during your rides.
Rainy Season: Certain regions, like the Gulf Coast and the Piney Woods, experience significant rainfall, especially during the spring. Keep an eye on weather forecasts and ensure your gear is waterproof.
Cold Snaps: In the winter, temperatures in the Panhandle Plains and parts of West Texas can drop significantly. Dress warmly and be cautious on potentially icy roads.
Hurricanes: The Gulf Coast is susceptible to hurricanes in late summer and early fall. Stay informed about weather warnings and plan your rides accordingly.
Famous Texas Adventure Motorcycle Routes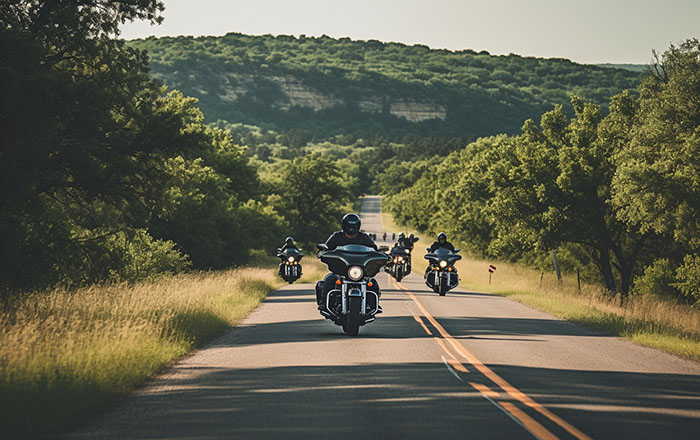 The Top 10 Motorcycle Routes in Texas
Texas offers a plethora of scenic routes that wind through its diverse landscapes, making it a haven for motorcycle enthusiasts. Whether you crave the rugged beauty of the desert, the rolling hills of the countryside, or the charm of coastal roads, Texas has it all. Here are the top ten motorcycle routes in Texas that promise an unforgettable riding experience:
Big Bend Scenic Loop
Location: West Texas
Highlights: A journey through the dramatic canyons of Big Bend National Park and the Chihuahuan Desert, offering stunning vistas and serene isolation. This route is a favorite for those who appreciate raw natural beauty and peaceful rides.
Twisted Sisters: Three Sisters Scenic Byway
Location: Texas Hill Country
Highlights: Renowned for its exhilarating twists and turns, this 100-mile loop is a motorcycling paradise. The byway features challenging curves, lush landscapes, and visits to charming small towns like Leakey, Bandera, and Medina.
The Gulf Coast Highway
Location: Texas Gulf Coast
Highlights: Enjoy coastal breezes as you cruise along the Gulf Coast Highway. With splendid ocean views, seaside towns, and fresh seafood, this route provides a relaxed and scenic ride.
The Texas Hill Country
Location: Central Texas
Highlights: The Texas Hill Country is a motorcycling gem, with picturesque rolling hills, bluebonnet-covered fields in spring, and historic towns like Fredericksburg and Luckenbach. The winding roads and sweeping vistas make it a quintessential Texas ride.
The Rio Grande Valley
Location: South Texas
Highlights: Ride along the Rio Grande River and explore the vibrant culture and history of this border region. The route takes you through towns like McAllen and Laredo, with opportunities to savor Tex-Mex cuisine.
The Texas Independence Trail
Location: Southeast Texas
Highlights: Trace the history of Texas and its fight for independence along this route. Visit towns like Gonzales, Goliad, and San Felipe, where pivotal events in Texas history unfolded.
The Llano Estacado
Location: West Texas
Highlights: Discover the stark beauty of the Llano Estacado, a high plains region, with vast horizons and serene isolation. This route is perfect for riders seeking solitude and an escape from the bustling city life.
The Piney Woods
Location: East Texas
Highlights: Meander through dense forests and tranquil lakes in the Piney Woods, known for its lush greenery. Visit towns like Nacogdoches and Lufkin for a taste of East Texas charm.
The Panhandle Plains
Location: North Texas
Highlights: The Panhandle Plains offer long, open stretches of road with striking panoramic views. Experience the essence of the Texas plains and connect with the region's rich cowboy culture.
The Central Texas Backroads
Location: Central Texas
Highlights: This route is perfect for riders who enjoy exploring lesser-known gems. Navigate through the backroads of Central Texas, uncovering hidden treasures and serene landscapes.
These ten motorcycle routes in Texas are just the beginning of your two-wheeled adventure in the Lone Star State. Each route has its unique charm, whether you seek challenging twists, scenic beauty, historical significance, or cultural experiences. As you embark on these rides, you'll discover the heart and soul of Texas, one mile at a time.
Biker-Friendly Towns in Texas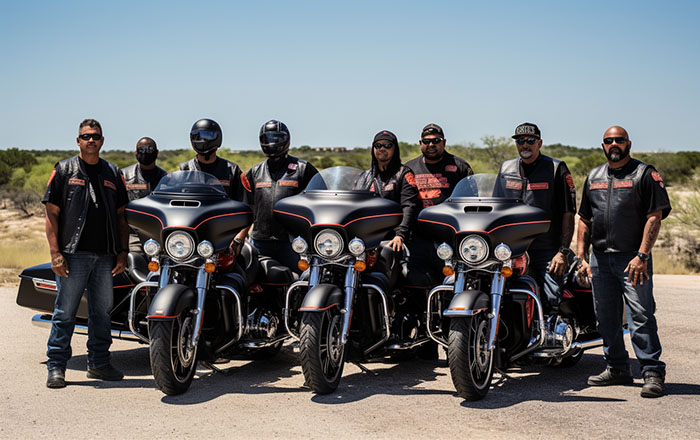 Texas is home to a variety of biker-friendly towns that not only provide essential services for riders but also exude a unique charm that's sure to leave a lasting impression. Biker-friendly towns in Texas are more than just pit stops; they are welcoming havens where riders can find camaraderie, rest, and the opportunity to immerse themselves in the local culture. These towns often boast a vibrant motorcycle scene and provide an ideal backdrop for sharing stories, grabbing a meal, and replenishing your spirits.
Features and Attractions in Biker-Friendly Towns
Bandera: Known as the "Cowboy Capital of the World," Bandera in the Texas Hill Country is a hub for motorcyclists. It's a place where you can rub shoulders with fellow riders, enjoy live music, and savor hearty Texan cuisine. The laid-back atmosphere and beautiful surroundings make it a must-visit stop.
Luckenbach: This iconic, unincorporated town is famous for its musical legacy. Motorcyclists will find a welcoming environment with live country and folk music, cold drinks, and good company. It's an essential part of the Texas Hill Country experience.
Fredericksburg: Also located in the Texas Hill Country, Fredericksburg offers a unique blend of German heritage and Texan hospitality. Explore its charming downtown, filled with boutiques, breweries, and wineries. It's an excellent place to unwind and indulge in local flavors.
Jefferson: Nestled in the Piney Woods, Jefferson is not only rich in history but also incredibly rider-friendly. You'll find a range of cozy bed-and-breakfast inns and eateries, perfect for relaxing after a day on the road. Take a riverboat tour or explore the town's historic architecture and shops.
Biker-friendly towns often host a variety of motorcycle events and rallies that draw riders from far and wide. These gatherings provide an opportunity to connect with other enthusiasts, admire an array of motorcycles, and partake in exciting festivities. Some of these events may include charity rides, bike shows, live music, and more. When planning your Texas motorcycle adventure, consider incorporating stops in these biker-friendly towns to not only recharge and refuel but also to engage in the vibrant motorcycle community.
Challenges and Considerations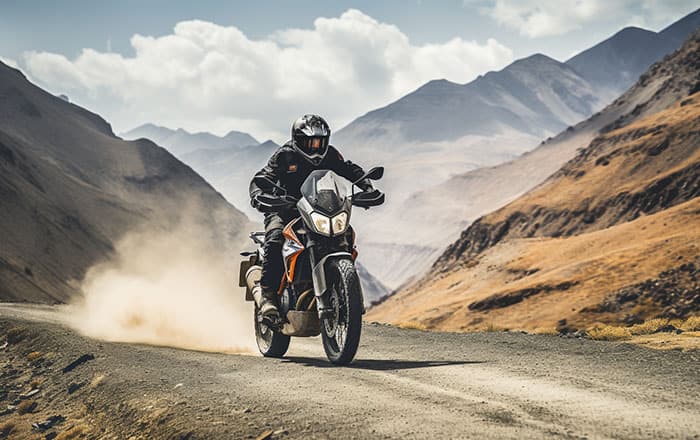 Riding in Texas Weather, from the Heat to Sudden Storms
Summer Heat: Texas is known for its scorching summers, especially in regions like West Texas. When riding during the hot season, it's crucial to stay hydrated, wear appropriate gear to protect yourself from the sun, and schedule your rides during cooler parts of the day.
Rainy Season: Certain parts of Texas, such as the Gulf Coast and the Piney Woods, experience significant rainfall, particularly in the spring. Before embarking on a ride, check the weather forecast, and be prepared with waterproof gear to stay dry.
Cold Snaps: In the winter, some regions like the Panhandle Plains and parts of West Texas can experience sudden drops in temperature. Dress warmly in layers and be cautious when riding on potentially icy roads.
Hurricanes: If you plan a ride along the Gulf Coast, be aware that late summer and early fall can bring hurricane threats. Stay informed about weather warnings and consider adjusting your itinerary if necessary.
Dealing with Wildlife on the Road
Texas is home to diverse wildlife, and encounters with animals on the road can pose a risk to riders. Keep the following in mind:
Be vigilant, especially during dawn and dusk when wildlife is more active.
Use your high beams at night to spot animals on the road.
If an animal crosses your path, slow down but do not swerve suddenly, as this can cause accidents.
Be cautious of deer, hogs, and other large animals that may dart onto the road unexpectedly.
Safety Concerns and Avoiding Accidents
Motorcycle safety is paramount in Texas. To ensure a secure journey, consider the following:
Always wear proper safety gear, including a DOT-approved helmet, gloves, jacket, pants, and appropriate footwear.
Obey speed limits and traffic laws to avoid accidents and encounters with law enforcement.
Stay attentive and avoid distractions, such as using a phone while riding.
Maintain a safe following distance and be aware of blind spots on the road.
Take breaks to combat rider fatigue during long journeys.
Texas motorcycle trips offer an unparalleled experience for riders. With its diverse landscapes, rich culture, and excellent weather, Texas truly is a rider's paradise. So, what are you waiting for? Gear up, rev your engines, and embrace the Texas motorcycle adventure!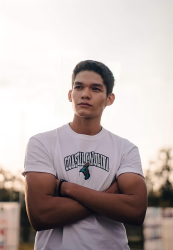 Latest posts by Mike Thompson
(see all)