The Ultimate Guide to the Best Motorcycle Dash Cam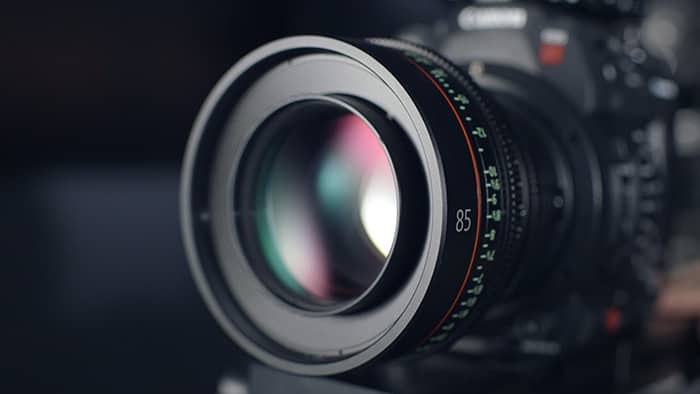 Motorccle Dash cam is an innovative tool that allows us to capture our road trips, track our performance, and even provide critical footage in case of an accident. Its usefulness extends beyond mere recording of rides, serving as an essential tool for safety and documentation. With the improvement of technology, these cameras have evolved from being bulky and expensive to compact, affordable, and packed with features. However, with the multitude of options available in the market, choosing the right motorcycle dash cam can be a daunting task. This guide aims to simplify that process, providing you with comprehensive information and insights.
Importance of Having a Motorcycle Helmet Camera
Motorcycle helmet cameras are no longer a luxury but a necessity for every biker. With the rising incidents of road accidents and the increasing need for evidence in case of disputes, having a motorcycle helmet camera can be a game-changer. It can capture real-time footage of your journey, acting as an unbiased witness in unfortunate circumstances.
Apart from serving as a safety tool, a motorcycle helmet camera can also enhance your riding experience. It allows you to record your travels and adventures, creating memories that will last a lifetime. Whether you are a professional biker or a weekend warrior, the ability to review your rides can help improve your skills and performance.
Moreover, the motorcycle helmet camera also promotes responsible riding. Knowing that your actions are being recorded can encourage safer and more conscious driving, not just for you but also for others on the road. It's an investment that provides peace of mind, safety, and enjoyment.
Why Motorcycle Dash Cams are Essential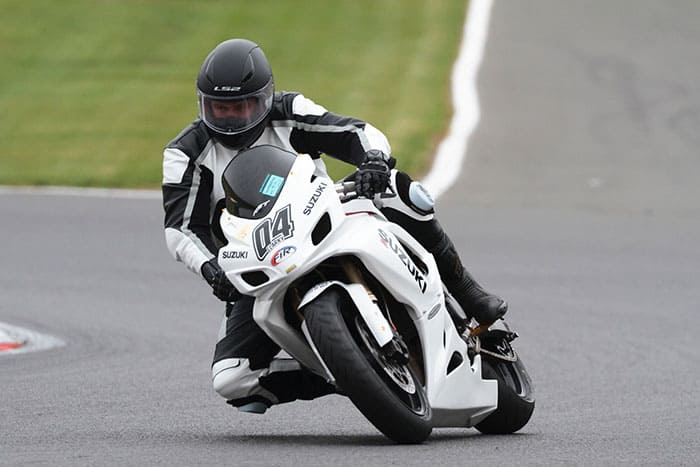 One way to safeguard yourself from these risks is by installing a reliable motorcycle dash cam. Here are a few reasons why you should consider getting one.
Documenting Accidents – Motorcycle accidents happen, and when they do, it's important to have evidence to prove your innocence. Dash cams record your rides, providing valuable evidence in case of an accident. This can be particularly useful when dealing with insurance claims or legal disputes.
Legal Liability – In addition to providing evidence in case of an accident, dash cams can also protect you from unjust traffic violations. Since many cameras come with GPS and speed tracking, they can serve as proof if you're wrongly accused of speeding or other traffic violations.
Capturing Your Adventures – If you're a motorcycling enthusiast, then you know that riding is not just about getting from one point to another; it's about the journey itself. A dash cam allows you to capture your adventures on the road, making your trips even more memorable.
Dash Cam and Helmet Cam
Motorcycle cameras come in two main types: the dash cam and the helmet cam. Lets check out the differences.
A motorcycle dash cam is a camera system that mounts onto your motorcycle, usually on the handlebars or the dashboard. It typically consists of two cameras: one for the front view and one for the rear. The dash cam records continuously, capturing everything that happens in front and behind your bike. The footage is stored on an SD card, which you can access whenever necessary.
On the other hand, a motorcycle helmet camera is a portable camera that attaches to your helmet. It gives a first-person perspective of the ride, providing a more personal and immersive footage. Unlike the dash cam, the helmet cam can be used off the bike, making it versatile and suitable for other activities.
Both types of cameras have their advantages. The dash cam provides constant, unobstructed footage of the road, while the helmet camera offers flexibility and a more dynamic view. Your choice depends on your needs and preferences.
Key Features to Consider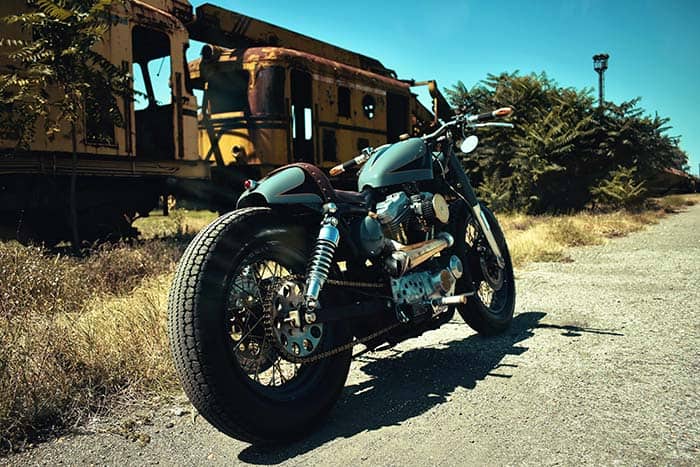 | Aspect | Description |
| --- | --- |
| Video Quality and Resolution | Look for dash cams with at least 1080p or 4K resolution to capture clear and detailed footage, including license plates and road signs. |
| Field of View (FOV) | Opt for a dash cam with a wide-angle lens and a FOV of at least 140 degrees for better coverage of your surroundings. |
| Low-Light Performance | Choose models with larger aperture sizes and advanced image sensors for clear recordings in low-light or nighttime conditions. |
| Mounting and Design | Select vibration-resistant mounts that are easy to install, and consider aerodynamic design to reduce wind resistance on your bike. |
| Durability and Weather Resistance | Prioritize rugged construction and an IP rating for water and dust resistance to ensure the dash cam's longevity. |
| Loop Recording and Storage | Opt for dash cams with loop recording to continuously overwrite old footage; choose ample storage or high-capacity memory card support. |
Best Motorcycle Dash Cams
Vsysto No-Screen Motorcycle Dash Cam
The VSYSTO No-Screen Motorcycle Dash Cam is a cutting-edge device designed to enhance your motorcycling experience. It comes with a full body waterproof HD 1080P camera for both the front and rear, ensuring high-quality recording even under unfavorable weather conditions.
WiFi connectivity enables convenient video viewing and downloading on your phone.
Sound recording captures ride details, though wind noise variability should be noted.
Easy installation through color-coded wires and extensions is a standout feature, complemented by the ability to connect to switched power for continuous operation.
You can check out the Prices here.
Vantrue F1 4K + 1080P Motorcycle Camera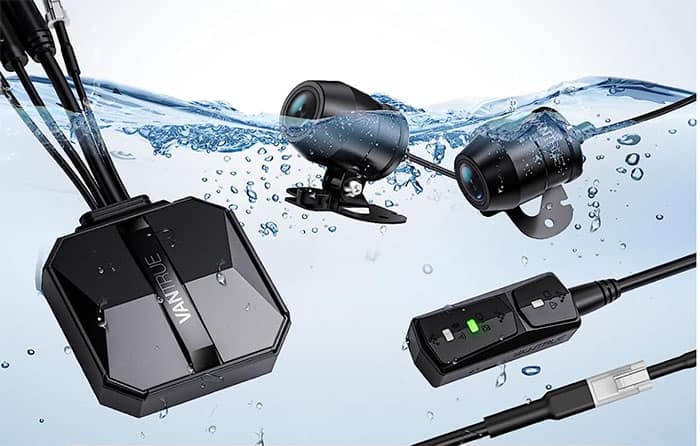 The Vantrue F1 4K + 1080P Motorcycle Camera is a highly advanced dash cam designed for motorcycle enthusiasts. It provides 4K ultra-high-definition recording for the front and 1080P for the rear, ensuring every detail is captured clearly. Equipped with a Sony Starvis IMX415 image sensor and Wide Dynamic Range technology, it offers exceptional image clarity, regardless of the time of day.
Rear camera with HDR technology for precise high-contrast scene capture
G-Sensor: Activates on collision, locks and records video to prevent overwrite
IP67 rating: Dust and water protection
GPS module: Records position and route data
Often purchased with a 512GB MicroSDXC memory card for extended recording capacity
You can check out the Prices here.
GoPro HERO11 Black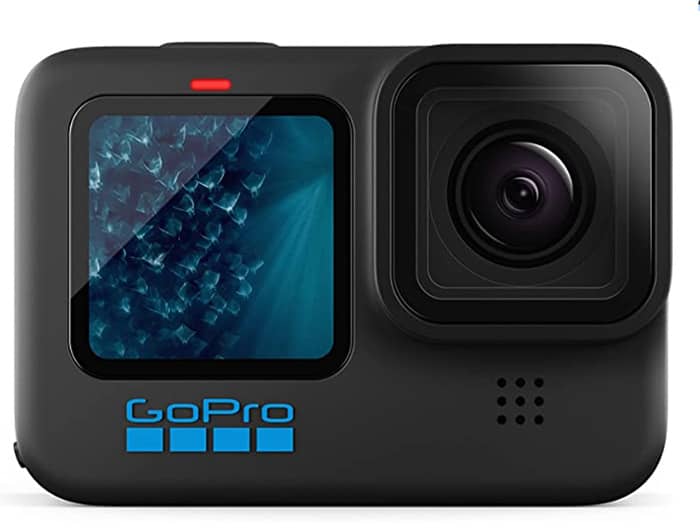 The GoPro Hero 11 Black is a widely recognized industry standard in the realm of action cameras. This device is renowned for its high-resolution video capabilities that allow for clear and detailed footage capture, making it a perfect choice for motorcyclists who wish to document their journeys with precision and clarity. Its robust design and advanced features also make it a reliable tool for capturing action-packed moments in various conditions.
Capture more sky and horizon in shots, allowing zoom, crop, and digital lens adjustments while preserving textures.
5.3K video delivers exceptional image quality, 91% more resolution than 4K, and 665% more than 1080p.
Water-repelling lens cover enhances visuals.
Experience 27MP photos, 5.3K60 video, and 2.7K240 recording for impressive slow-motion playback.
HyperSmooth 5.0 stabilization, an Emmy Award recipient, features Horizon Lock and AutoBoost for ultra-smooth footage, even in dynamic scenes.
You can check out the Prices here.
Sena 10C Pro Motorcycle Bluetooth Camera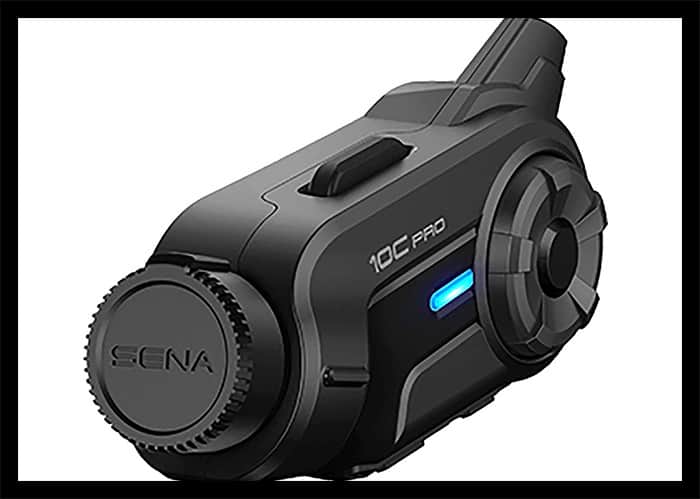 The Sena 10C Pro is a combination of a camera and communication system designed specifically for motorcycle enthusiasts. This advanced Bluetooth headset features 2K video recording capabilities, offering high-definition footage for your rides. With a robust Bluetooth communication platform, it allows users to connect with up to three other riders. Alongside these, it comes equipped with a WiFi feature that enables users to download and preview their footage directly to their smartphones.
Sena 10C Pro offers beyond communication and video capabilities.
Features a 1600-meter four-way intercom, noise control, music sharing, and FM radio.
Compatible with Sena Camera App for easy footage management.
Durable, water-resistant, and unibody design.
Works with iPhone and Android, includes handlebar remote support.
Supports up to 64GB microSD cards for storage.
You can check out the Prices here.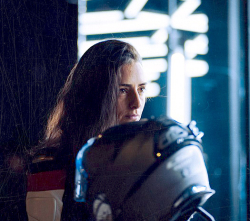 Latest posts by Samanatha Jones
(see all)